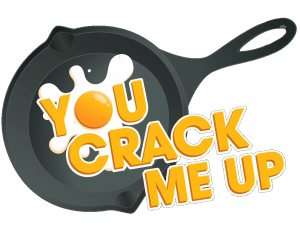 You Crack Me Up
Truck Description:
Serving breakfast/brunch/lunch/brinner – former owner of Two Sisters Cafe for ten years and last year ventured into the food truck world! Already received recognition in Buffalos top 8 food trucks at #4 and also on "onlyinyourstate.com" watch for top 9 food trucks you must check out in Buffalo! Serving many different omelettes, breakfast burritos, sandwiches with the eggs and much more.
Eggs, eggs, eggs…how many have I cracked in the last 40 years or so?! Mind-boggling! As former owner of Two Sisters Cafe in Orchard Park for the past ten years, I am now venturing into the food truck route to bring some home style cooking to you! Looking forward to seeing my old customers, and of course making many new ones with my made-with-love breakfast/brunch/lunch creations! Who doesn't love breakfast any time of day?!
-Diane Smith, Owner
Menu
Omelettes – served with a wedge of warm Father Sam's pita bread
Popeye – sauted spinach, feta
Cave Man – bacon, sausage, ham, cheese
Veg Out – onion, tomato, spinach, black olives, cheese
Cheese choices – American, cheddar, feta, provolone, Swiss
$7.00
+ Egg Beaters $1.00 extra
Breakfast Burritos – garlic herb wrap or honey wheat
Classic – eggs, sausage, American, pico de gallo
Mex It Up – eggs, brown rice & beans, cheddar, pico de gallo
Big Fat Greek – eggs, spinach, black olives, feta
Amish you! – eggs, bacon, fries, cheddar
$7.00
+ Egg Beaters $1.00 extra
Brunchy Lunchy Bites
Yolko Moono – shaved ribeye, provolone, fried egg, smothered in chipotle lime hollandaise on Costanza brioche bun
Stacked – grilled cheese – 3-cheese & fried egg, grilled multi
Loosen the BELT – bacon, egg, lettuce, tomato, grilled multi
Ole Timer – classic egg, cheese, bacon or sausage on Costanza brioche bun
$7.00
Come Find Us!